The kids and I are reading
Nim's Island
and are having a learning blast with it. We read the first three chapters today, and then took off for further research at the library where we devoured a large stack of books and read all about sea otters, blue whales, plankton, barometers, iguanas, and more. Those chapters also inspired fun conversations about satellite dishes, laptop computers, volcanoes, cyclones, machetes, and rudders and tillers. Marian is keeping an ongoing list of all animals mentioned and I'm helping her with a side list of other topics to explore.
The scene of the massacre: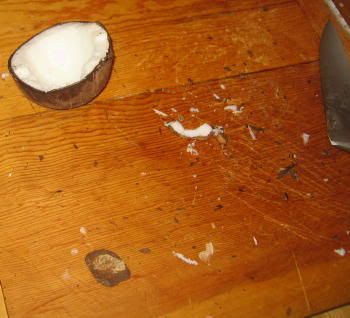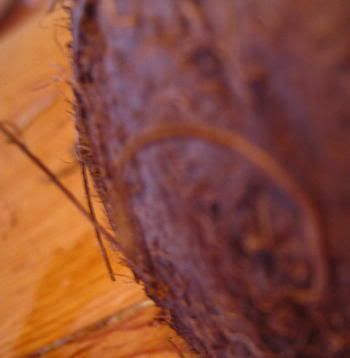 All three kids declared the coconut opening exciting and unpredictable. I wish we'd all worn safety goggles, and I'm sure the kids will never forget the vision of their sweet sweating mother repeatedly swinging a cleaver through the air at a furry brown coconut, which then protested by showering us with wooden chips at each stroke. When we finally got it open, we lost all the juice, but the meat was a hit, however stubborn. It made a nice addition to our "Nim Dinner" of coconut, seaweed, snap peas, sweet potatoes, and strawberries. (My tropical wine cooler fit with the theme as well.)
The coconut was a hit.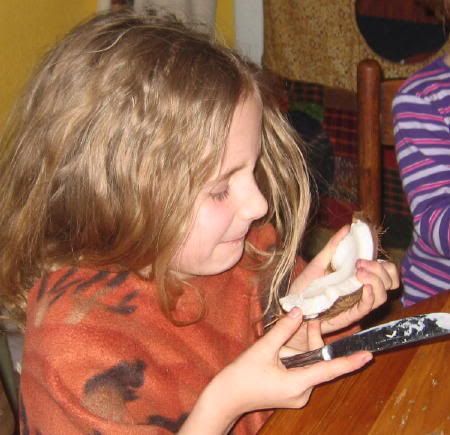 Mixed reviews on the seaweed. M braved a second bite, while L reacted to his first.
And Sophie ate everything.
Dry seaweed.
Rehydrated seaweed. Just for kicks. Slime and odor abound.
A simple cut and paste craft of a coconut tree, to pass the time while waiting for the eternal sweeet potatoes to finish baking.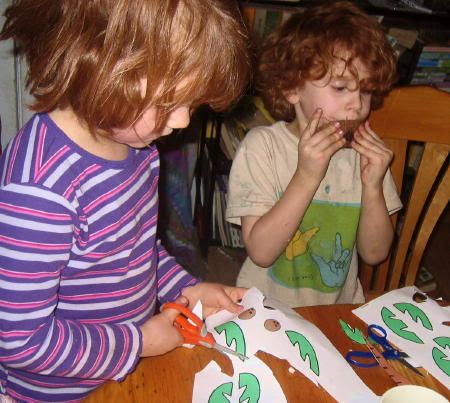 We can't wait for chapter 4!